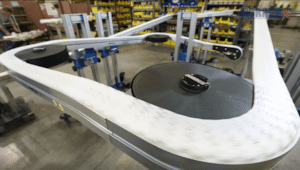 Hoosier Feeder Company offers all kinds of conveyors to fit your application, whether you need robust and durable conveyors for heavy parts or light, flexible conveyance for high-speed applications. Consider some of our conveyors featured below and never hesitate to reach out to begin your next project.
Belt Conveyors

have countless material, textures and sizes to choose from. Utilizing an aluminum frame and custom rollers, belts can be outfitted with cleats or tooling concepts to better fit your conveyor needs. The pulley driven system using a tensioned belt can be up to 99ft long by 2ft wide. These systems also have the capability of having an incline or spiral layout as well as a variety of surface materials such as Urethane, PVC, Silicone, Nitrile, Polypropylene, Polyolefin.

Chain Conveyors take on a variety of forms including wire mesh, slat, and fixture style belts. Driven by sprockets, this conveyor system does not require any tensioning. Chain conveyors can come in either a steel or modular chain style. Steel chain conveyors are best for hot applications, while modular (Polypropylene, TPE and Acetyl) is best for heavy, sharp or abrasive objects. Made with steel framing a chain conveyor system can also allow for turning. Optional belts include mesh (allow for particles to fall through), cleated, magnetic, low friction, static conductive, and roller top.

Food Grade Wash Down Conveyors adhere to the strict guidelines of the food and food packing industry. From an easy to clean construction to stainless steel frames and FDA standard sealed-edge belts you can trust that your conveyor will stand up to the persistent cleaning solutions.

Airveyors (Air Conveyors) are the perfect fit for high-speed conveyance for lightweight parts. Utilizing a blower motor to generate air flow an airveyor system will not need compressed air to power it. Airveyors can have adjustable tooling and automatic tooling changeover for a multi-product line.

Accumulation Tables take pre-orientated parts that are coming in at a high rate and discharges them in a single file line. They act as a buffer zone from high speed automation zones to low speed zones to prevent a surge of material bogging the system down. They can also be used to recirculate material back into the line.
To get your own custom feeder or conveyor system, start by requesting a quote.