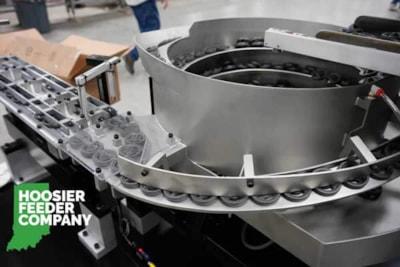 Vibratory feeders are hearty machines that do not typically require an excess of routine maintenance. Of course, every application is different so if your vibratory feeder is feeding dry plastic parts in a clean environment it will require less cleaning than one feeding oily metal nuts in a dusty or dirty environment. There are a few simple steps that you can take to make sure any vibratory feeder is set to run efficiently regardless of application.
Test All Bolts on Vibratory Feeder for Tightness – Constant vibration can sometimes work bolts loose where they obviously should not be, which could means confinements aren't held to the correct tolerances, precious energy is being dissipated into rattling sounds instead of driving parts, and components of the bowl that should otherwise be fixed together rub together causing premature wear and tear. Starting at the drive units for both vibratory inlines and feeder bowls, test each bolt for tightness ensuring your feed system is locked together the way it was intended.
Clean Dirt Buildup and Grime on Running Surfaces – Vibratory feeders are built to run most efficiently when they are clean. Luckily it is easy to perform general cleaning of critical areas on a vibratory feeder system. The most critical areas on most feeder bowls are the are the selection features near the discharge (where parts come out). With a simple 6-inch scale or scraper, remove build up taking care not to damage the metal or material underneath. You can go one step further by cleaning those same surfaces with machine cleaner and wiping dry. (Tip: If the system includes a vibratory inline, clean its running surfaces the same way.)
Ensure System is Level and Evenly Secured to Floor/Weldment – A vibratory feeder is designed to operate on a level surface with a secure connection to a mass beneath, most commonly and heavy weldment and/or floor. If the feed system support structure has leveling feet, make sure each foot is firmly and evenly contacting the floor. As a part of adjusting leveling feet make sure the system is as close to level as possible in order to get optimum performance.
Using these 3 easy tips, you can keep your system running efficiently. Of course, there are many other factors that influence the operation of your feeding system, and if you see anything odd like cracks or excess damage on any part of the system, remove power and consult with feeder experts. If your feeder system is still experiencing issue after you examine the points above, give Hoosier Feeder Company a call as there are finer details that may need to be addressed.