Business owners find themselves trying to find more hours in the day, not more things to add to their already full plate. Even so, throughout our history Hoosier Feeder Company has been a business that cares and supports the local community. Whether we're getting involved with the local food pantry, sponsoring the high school robotics team, or volunteering time for local causes, our team realizes the best way to make an impact with our business is to first make an impact in the community we serve.
Local Involvement
As advisors for the community career centers in our area, our staff works with instructors to help drive the curriculum and get youth interested in machine trades. Students gain opportunities to learn about the feeder industry, and the tools used in the manufacturing process so they can go into a business and immediately add value.
"We teach the kids about our industry, conduct mock interviews, and help them learn the basics of the trade," said Chris Schombert, Executive Vice-President. "This community is full of hard working, honest, and reliable people. Our intent is to eventually hire some of them to work for Hoosier Feeder Company."
Extended Outreach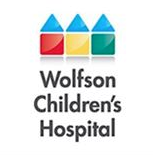 Another recent example of the company's extended community involvement was its participation in the Spirit to Serve event in Jacksonville, Florida. At this unique and memorable event, teams were assembled to decorate simple wagons, turning them into bright, cheerful chariots designed for kids receiving treatment at Wolfson Children's Hospital. Each wagon was filled with stuffed animals and other gifts to make a child's medical treatment less scary.
"Wagons are used all the time at the children's hospital to transport young patients to and from procedures," said Greg Schombert, President. "At this event, the intent was to make the wagons a positive experience. Kids could be transported not just for medical care, but also to the local playroom and – best of all – to their parent's car as they get ready to go home!"
Hoosier Feeder Company is always looking for ways to give back, both to our local communities and to worthy causes further away. If you're involved in a community event and would like to connect with us about how we can take part, please contact us today.