Additive manufacturing (3D printing)
Additive manufacturing (3D printing) is quickly becoming a staple in all kinds of industries, and we found the parts feeding sector to be no different. What we do here at Hoosier Feeder Company revolves around an individual part, which by itself gives us information on how we need to design a feeding system, how we approach quoting a job, and whether a vibratory or centrifugal feeder is a feasible option. When a customer tasks us with building a feeder system, there are times when only drawings are available. Whether part manufacturing or design is still in development, or simply unavailable at the time of feeder quoting and design, sometimes we have to make do with what is available.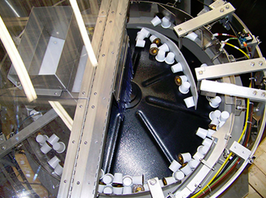 Hoosier Feeder Company has begun to
implement additive manufacturing
so that we can accommodate customers with developing, changing, and hard-to-get parts. If we cannot acquire the exact part we intend to feed, we can print an analog that allows us to understand the part a great deal more than just reading figures on a drawing. This means we can provide you with a more accurate price, a better feeding system, and
greater confidence in your investment.
Several of our customers already use additive manufacturing to develop new parts and our ability to print them in-house adds another degree of flexibility to our services.
"Devil is in the Details"
It is important to note that the best way for us to design your feeding system is by using the exact part we are tasked to feed. However, when parts are hard to come by and part information is limited, we do what it takes to provide you with the best possible feeding system. At Hoosier Feeder Company we understand that the "devil is in the details". That is why we look for new and different ways to fine tune each part of our process so we can deliver a superior product with customer service to match.
Learn More about our 3D Printing by contacting us today!

August 23, 2017