Introducing our new Rep Spotlight blog series, where we will highlight the outstanding representatives who are dedicated to providing quality solutions to optimize your automation processes. First up, Youngblood Automation!

Youngblood Automation
Representing: Indiana, Ohio, Kentucky, Western Pennsylvania, and West Virginia
Website: www.youngbloodautomation.com
Employees: 60 across 4 locations
History
In 2009, Hoosier Feeder Company began working with Prime Systems Network, a sales representative group led by Dave Burkhardt, Ryan McAllister, and Ralph McAllister. Following a decade of successful growth, Prime System Network was acquired by Youngblood Automation in 2019. This acquisition expanded Youngblood's territory and product portfolio and also enhanced Hoosier Feeder's sales support by expanding sales representative coverage into Indiana. Dave and Ryan remained with Youngblood and continue to represent Hoosier Feeder Company today!
Youngblood Automation's Product Portfolio
As an automation solutions provider, Youngblood Automation offers a range of options, from manufacturing capital equipment to automation components to integrated solutions. The company is known for providing synergistic solutions that cover all aspects of automation. They have three business groups, which include:
Capital Equipment
Automation Distribution
Integrations
Successes
Youngblood Automation applies a disciplined sales process every day, engaging customers and working to present Hoosier Feeder products, qualifying opportunities, and growing market share. Youngblood Automation has been at the forefront of Hoosier Feeders' product development, being among the first representatives to develop customers and sales for multiple products including our centrifugal product line. "Our main successes have been built upon investment and intentional new account development for Hoosier Feeder," notes Ryan McAllister, Director of Equipment Sales – Youngblood Automation.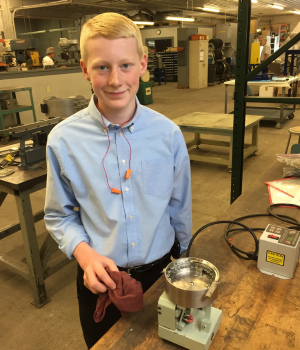 Fun Story
In 2016, McAllister found a small 6" vibratory feeder bowl originally used for trade shows, which was no longer functional. McAllister's son, Liam, a Boy Scout at the time, was working on his engineering merit badge. Hoosier Feeder offered to have Liam visit the factory to learn about vibratory bowls and rebuild that bowl. The training and rebuild were a success! A few weeks later, McAllister was able to use that feeder bowl to secure a sale with a customer, and his son was able to secure his engineering merit badge.
Find Your Rep
If you're looking to find your local rep, visit our Rep Locator page on the Hoosier Feeder Company website. We look forward to continuing to provide exceptional service and support to our customers with the help of our dedicated reps.

May 8, 2023