Hoosier Feeder and Hoosier Conveyor Partner to Design a Vibratory Feeder Bowl and Tray Handling Conveyor System for a Complete Cap Filling Solution

We recently had the opportunity to complete a project for a customer in the life sciences industry who was in need of a complete system for pharmaceutical cap filling, from bulk caps to filled product. In order to fulfill their requirements, we partnered with Hoosier Conveyor Company to design an integrated solution that would efficiently and effectively meet their needs.
The system features a Hoosier Feeder Company vibratory feeder bowl and inline horizontal track, as well as a Hoosier Conveyor Company solution including a Dorner ERT150® Precision Edge Roller Conveyor, and a return roller conveyor.
The complete solution offers a number of benefits, including a compact footprint, minimal maintenance, and overall enhanced efficiency. Additionally, the system is clean room ready with a 304-polished stainless steel vibratory feeder bowl and an ISO Class 4 verified Precision Roller Conveyor system.
Here's how the process works: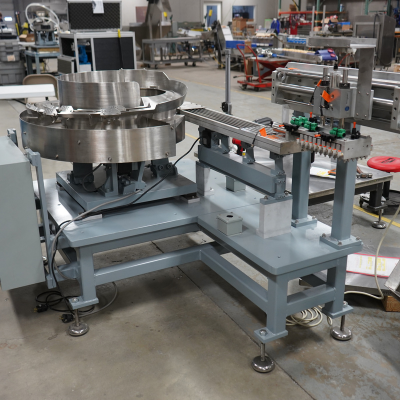 The bulk caps are singulated and oriented in the vibratory feeder bowl at a rate of 40 parts per minute, before being discharged into a 6-lane inline horizontal track
The Dorner ERT150 Precision Edge Roller Conveyor shuttles pallets with custom trays to a Lift & Locate station adjacent to inline horizontal track
A vacuum head then picks and places 6 lanes of caps (with 10 caps per lane) into each tray
The tray is then indexed to a second position and the process is repeated to fill the tray
The pallet then indexes to the next Lift & Locate station where the caps can be individually filled before continuing on in the automation process
The integrated solution offers a streamlined approach to pharmaceutical cap filling. This type of solution is adaptable for a variety of applications from life sciences to consumer product goods, health and beauty, and more.
See this System in Action
What Type of Products are You Moving?
At Hoosier Feeder Company and Hoosier Conveyor Company, we specialize in singulating and orienting bulk products, including pharmaceutical caps, automotive clips, raw foods, health and beauty products, and much more.
If you're looking to optimize your production with the right system, contact us today to discuss your options.
April 25, 2023