In manufacturing, precision and efficiency are vital for success. We are excited to introduce our Counting System: Vibratory Feeder Batching System. This innovative solution is designed to provide high-speed and accurate product batching in a variety of industries, including automotive assembly, pharmaceuticals, nutraceuticals, health and beauty, consumables, and more.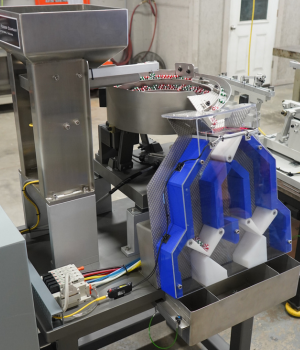 Precise Batching Made Easy
Our Counting System is designed with precision in mind. Here are some of the key features that set it apart:
Flexible, Two-Gate Design for Higher Output Speeds: The Counting System's flexible design employs a two-gate mechanism that optimizes output speeds. As one batch is discharged, the other accumulates, ensuring continuous operation without interruptions.
Error Detection and Batch Rejection: Miscounted batches are promptly identified and rejected before they reach the packaging or processing stages, ensuring a consistent level of quality in your production.
Versatility for a Wide Range of Part Sizes and Product Types: Our Counting System accommodates a diverse array of products, ranging from small parts as tiny as 0.25 inches to larger components. With the capability to process rates of up to 100 parts per minute, it adapts effortlessly to the specific requirements of your production line.
Seamless Integration: Whether you're in the automotive assembly, pharmaceuticals, nutraceuticals, health and beauty, or consumables industry, our Counting System offers a versatile solution that fits seamlessly into your existing operations. It can be easily integrated with bagging systems or conveyors, making it an ideal addition to a wide range of applications.
See the Counting System in Action:
Specifications
Components: The system comes standard with a Vibratory Feeder, the Counting System itself, and Controls for easy operation.
System Footprint: The system's compact footprint measures 48" x 48". With the prefeeder, it can extend up to 48" x 10', making it adaptable to your workspace.
Prefeeder: 0.5 cu. ft. Stainless Steel Hopper: A durable and sanitary hopper that meets industry standards.
Size and Rates: The size and rates of the vibratory feeder can be adjusted according to your product's specifications.
316 L Option: For pharmaceutical applications, we offer a 316 L option to meet stringent regulatory requirements.
Quick Dump Option: A quick dump option is available for small batch runs, further enhancing operational efficiency.
Various Options: Choose from a range of options to customize the vibratory feeder to your specific needs.
Our Counting System is ideal for accurate, high-speed batching. Whether you are in automotive assembly, pharmaceuticals, nutraceuticals, health and beauty, consumables, or any industry that demands precision, our system can help optimize your counting process.
To learn more about how our Counting System can enhance your production, please don't hesitate to reach out to us. We're here to assist you in achieving the highest levels of efficiency in your operations.
November 17th, 2023