Hoosier Feeder Company and PMMI Foundation, the charitable foundation of PMMI, The Association for Packaging and Processing Technologies, have partnered to provide Whitewater Career Center's Welding Technology Program with a matching donation through the PMMI U Skills Fund.
Local career centers like Whitewater Career Center provide high school students with real-life experiences, skills, and knowledge to be successful in today's working world. Whitewater Career Center, located in Connersville, IN, offers 13 different career training programs from automotive technology to electricity, health science, and cosmetology.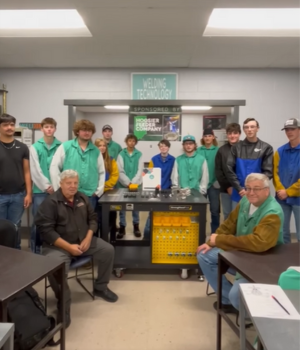 The welding technology program supports comprehensive student engagement with both classroom and hands-on learning experiences including oxy-fuel cutting, shielded metal arc welding, safety skills, print reading, electrical principals, mechanical drawing, and more. During their senior year, students can secure apprenticeships with local companies. This year's welding technology class includes 45 juniors and seniors some of which are currently employed with Hoosier Feeder Company.
The donations from Hoosier Feeder Company and PMMI Foundation have enabled the welding program to acquire a brand-new fabrication table and essential steel materials for the students.
"Supporting Whitewater Career Center's Welding Technology Program isn't just an investment in education; it's an investment in our future workforce," notes Stacy Johnson, Vice President of Business Development at Hoosier Feeder Company. "The PMMI Foundation's dedication to empowering students, fostering career opportunities, and bridging the skilled workforce gap in the packaging and processing industry is undeniably making a positive impact on our industry's future. We are thrilled to be able to partner with them in this mission."
Phil Bedel from Whitewater Career Center Shares His Experience
For more information about Whitewater Career Center, visit:
For more information about PMMI, visit:
September 28th, 2023