We're Packing Up for Pack Expo!
We're so excited to be a part of PACK EXPO Las Vegas, an event that brings together industry leaders to explore packaging and processing innovations. Join us at Booth SL-5925, where we'll be ready to discuss your automation needs and showcase our newest orienting and conveying solutions.

Here's a glimpse of what's in store:
Hoosier Feeder & Hoosier Conveyor Booth #SL-5925
Hoosier Feeder Company & Hoosier Conveyor Company are excited to present four unique systems designed to enhance packaging and processing applications: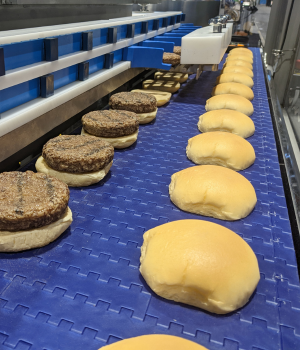 Centrifugal Feeder & FlexMove Conveyor System: This system showcases the high-speed processing of single serve coffee pods. This versatile solution adapts to various products and applications, boosting production speed, minimizing product loss, and optimizing operational efficiency.
Food Product Placement System: This new system accurately orients and places food products in frozen food and ready-to-eat assembly applications. It's designed to handle bulk proteins like frozen hamburger patties, sausage patties, or egg patties, placing them precisely where needed.
Opposing Conveyor System: Using bi-directional conveyors, this system efficiently orients bulk packaging products. Its flexible design allows products to circulate until properly oriented and prepared for the next phase of production.
New Product ……..???? Of course, no show is complete without the debut of a NEW PRODUCT! Add us to your show planner and stop by Booth SL-5925to be among the first to see the new system designed for orienting and counting!
Register for Free
Register for PACK EXPO now, free of charge, using code 78N37. Meet us at Booth SL-5925 from September 11-13 in Las Vegas to discuss your packaging automation needs.
Can't Make it to Las Vegas?
If you can't make it to Las Vegas, don't worry! You can catch us at three other industry events this Fall. Check out the details on our trade shows page.
Looking forward to meeting you and discussing your packaging automation requirements!